---
Lyon Canyon, Santa Clarita, California
---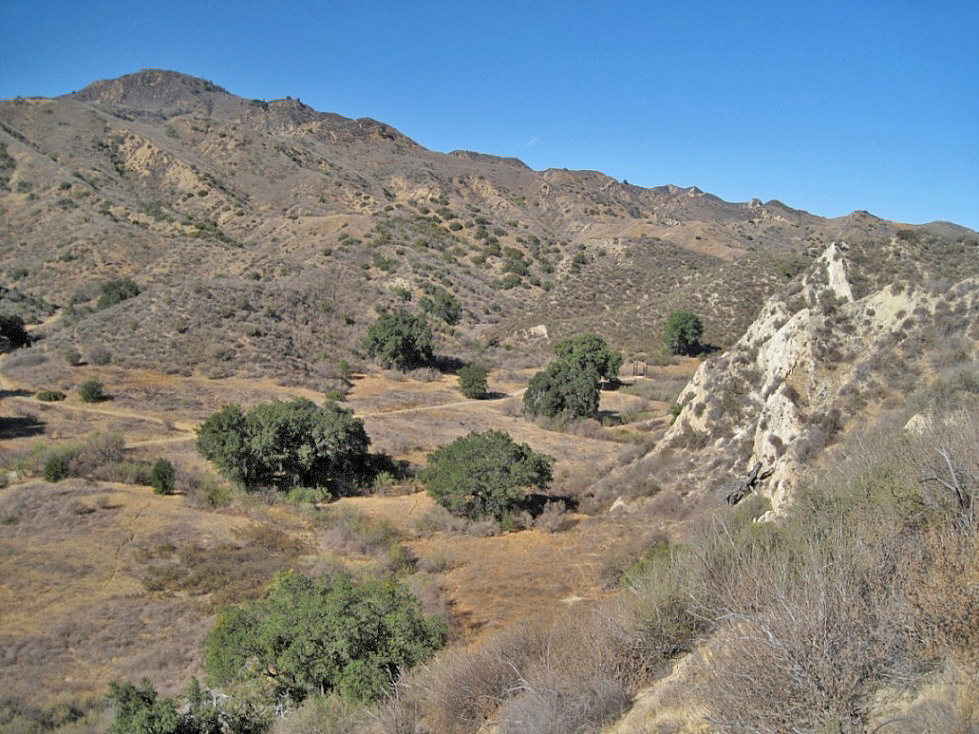 Looking a little south of west in Lyon Canyon. At the bottom middle of the photo was the location of the Boar's Nest from the old Dukes of Hazzard TV show. In the distant middle right on the road you can see the supports for the drawbridge from the movie Nothing But Trouble.
---
Lyon Canyon is located north of Towsley Canyon, east of Dewitt Canyon, south of Pico Canyon, and west of Interstate 5. In 1880, Sanford Lyon purchased land at the mouth of the canyon from the government. Eventually, the canyon became Lyon Canyon. The early history consists mainly of ranching and agricultural uses. In recent times, the canyon was used for filming, such as the Dukes of Hazzard TV show. The oil history for the canyon doesn't start until 1922 and, of the nine wells drilled, only three found oil.

Unlike the other canyons, Lyon Canyon is fairly open. It is also fenced off and is private property.

Since about 2002 Lyon Canyon has been under threat by the Lyons Canyon Ranch housing project. In 2009, the Los Angeles County Board of Supervisors approved the project (the canyon is not in the City of Santa Clarita). However, the project was never started and on September 23, 2014, the Santa Clarita City Council voted to purchase the property, which would end the threat of development forever. Escrow closed in late October and the dedication occured on December 3, 2014.

The new open space is called the "Taylor Open Space". The City acquired the Lyon Canyon property from the Taylor family, and named the open space for Taylor to clarify where the property is located. To name the open space after the owner who wanted to build a housing project does not seem right to me. There is only one Lyon Canyon in Santa Clarita. Even the housing project was named for Lyon (Lyons Canyon Ranch). I don't see how the City could get confused if they had called it the "Lyon Canyon Open Space".

Pointed out during the dedication was: "The Taylor Open Space is part of the Santa Clarita Conservation Corridor, an important wildlife corridor and habitat. The dedication will place the open space in public ownership to be preserved and enjoyed in perpetuity as a protected wildlife corridor and part of the City of Santa Clarita's southern greenbelt."


---
---
Planned Purchase of Lyon Canyon property:

Newhall Signal, 9/25/2014


The Santa Clarita City Council voted to add more than 100 acres to its open space this week, agreeing to purchase property near Towsley Canyon in Newhall. The land will adjoin the city-owned Rivendale Park west of Interstate 5 at Calgrove Boulevard.

"It's a stunning property to add to our open space," Santa Clarita Mayor Laurene Weste said Wednesday. "Because of its proximity to Towsley Park, it's absolutely natural. People are really going to enjoy that."

The city voted Tuesday night to pony up about $1.8 million for 114.21 acres of Lyons Canyon Ranch. The area has been the scene of TV and movie filming, but more recently it was planned for development. In 2008 and 2009, plans called for the entire Lyons Canyon Ranch area — some 235 acres — to accommodate 92 single-family homes and a senior citizens complex of 93 condo units. The entire Lyons Canyon Ranch area encompassed more than 1,200 oak trees and acres of oak woodland.

The 114 acres west of The Old Road and north of Rivendale will increase trail access in Rivendale and provide additional trail connections to Towsley Canyon. The city will have to set aside an estimated $50,000 to put up signs, gates and build a trailhead on the property. Since the property is outside the city limits, the city will also have to pay around $3,500 a year in property taxes. The money will come from the city's Open Space Preservation District fund.

"We've been after this for awhile," Weste said. "It's been a long-term goal."

---
Taylor Open Space (yellow area) in Lyons Canyon
---